Once in a while, I have an excuse as to why our custom artwork is late getting out of the workshop. This time, I have pictures to back it up...
For some time, we've been building a reputation for being the best artwork mounting shop in all of northern China. This is both a blessing and a curse. Last week, a Chinese government official walked in (this is almost never a good thing) and told us that we'd been selected to mount the largest hand-painted artwork in Chinese history for the 60th anniversary of the People's Republic of China. The artwork will be on display at Tian'anmen Square for about two weeks.
This may be a Guinness Book world record!
The size is 100 meters by 7 meters - that is longer than an American football field! And, about as long as most international football (soccer) fields!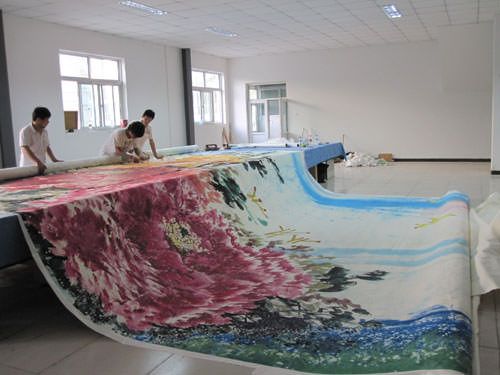 The government official went on to talk of how great an honor it was for us to be given the opportunity to mount this great artwork (I think that means we're not getting paid for it).
It's not like we could tell them "no".
And, if we don't this done on time, we'll probably all be shot
We're now running 16-hour days at the workshop, as we have 2 weeks to complete 2 months worth of work.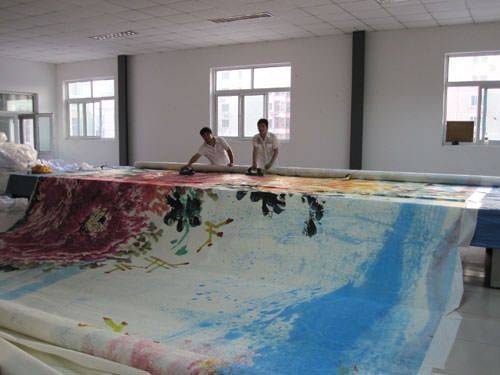 Ironing this artwork takes a lot of manpower.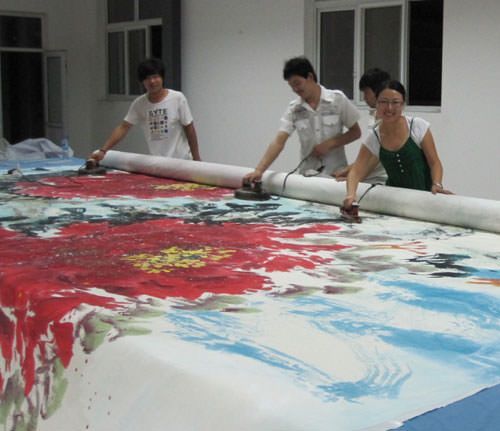 We were so short-staffed that even Sandy, my business partner to manages Beijing operations had to get to work (she still had time to smile for the camera).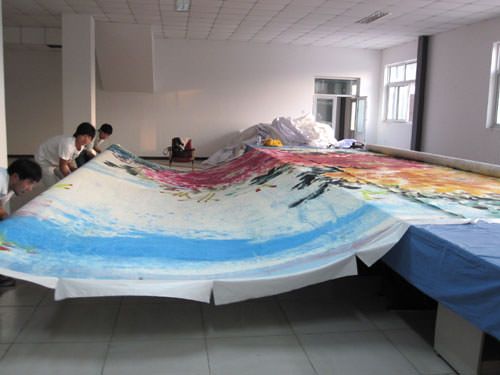 We have to roll and unroll this huge painting, adding layers of overlapping xuan paper to the back side to give the whole piece enough "body".
I have no idea how this is going to be erected for display at Tian'anmen. It will probably blow over the first day, and we'll all be shot. If you hear about any executions in China on October 2nd, that will be our staff standing at the business-end of a firing squad.
So this is why your custom calligraphy artwork might be late this month.
-Gary.
PS: FYI:
October 1st is "National Day" in P.R. China. This is like the 4th of July in the USA, or Canada Day, or various independence days in other countries. Except in China, this day now lasts for a week or longer (many government offices close for two weeks). Everybody goes on vacation, and many citizens try to travel to the capital city of Beijing.
This year, it's the 60th anniversary, so the festivities will be bigger and crazier than ever before. One estimate suggests that more than 6 million people will visit Tian'anmen Square for the celebration over 5 days starting October 1st. Over 100,000 portable toilets will be deployed for the event!
Only in China could they eclipse attendance of the Barack Obama inauguration. And they will do it every day for 5 days straight.