Forum rules
If your name is not English or Spanish or is uncommon, please include the culture or language origin of your name and/or some pronunciation hints.
Please add Payton - english origin

And how many names can be put on a scroll?
---
I've sent this request on to the translator. She'll have this added in a day or so.

As for as how many names on one scroll, I recommend just one.

The reason:

We're using Chinese characters by pronunciation (not meaning) to approximate how your name sounds. You end up with a few characters that don't have a concise meaning, but when a Chinese person sees them and sounds them out, they will realize it's a name.

If you try to do a first, middle, and last name altogether, it just starts looking like a jumbled accident of characters on a wall scroll. You'd basically have to inform the Chinese person who is viewing the wall scroll that there are several western names on it before they'd figure it out.

-Gary.
---
Do you have anything on your site that would accommodate 4 separate names?
---
The one thing I sometimes suggest for families is a large single character for "family" at the top. Then, the names written in smaller characters/columns below.
I don't have an exact example of this, but it would be a little like this: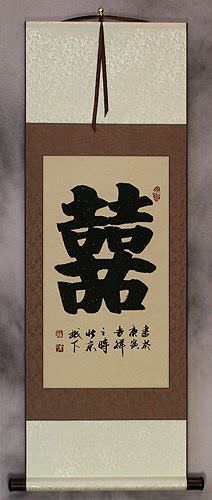 [/image]
You can order this by clicking the "Select and Customize" button next to the first title on this page:
http://www.orientaloutpost.com/family.php
Add your names as the inscription after you select your calligrapher.
-Gary.
---
I know you must be busy, sorry for the multiple questions.

If I decide to go with a "family" wall scroll and have our names listed under it would there be something with it to let me know who's name is what?

And, do I need to check back at the forum for the Payton name translation or will I receive an e-mail.
---
I just sent an email to the translator to nudge her about adding this name.

If you want a note about which name is which for the "family" wall scroll idea, just include a special note about that (Under the special instructions tab when you customize this before adding it to your shopping cart), and I'll write something up for you when I ship your custom wall scroll.

-Gary.
---
---