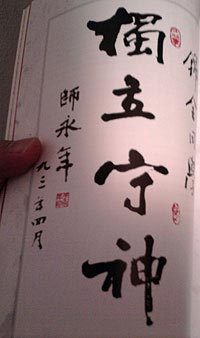 Dear Gary,
I found that fat printed Chinese script in a book of Chi Kung and I like it very much.
Its translation in the book is "Stand still keep your spirit".
I don´t know if this is literary correct, however it has that meaning for me too.
Could you give me a quote about the cost to have these 4 signs on a wall hanging scroll please?
-Standard Calligraphy
-Vertical Scroll
-Silk Gold
-Paper Beige
-Size Medium, one colon
-no Instription
no specials, no rush
Thanks in advance and have a nice pre-christmas time
Thomas