Horizontal wall scrolls are by far the most tricky.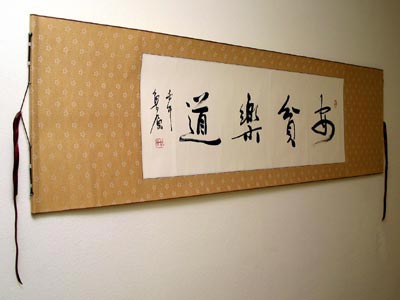 You need to get two nails or hooks in your wall, just the right distance apart.
They must be far enough apart to end up with no droop and just the right amount of tension. Those hooks must not be too far apart, such that you tear the wall scroll when you stretch it over them.
You've stumbled upon the reason that we don't offer too many horizontal scrolls on our website. We used to offer them more often but there were a lot of complications.
You also have to get those hooks fairly level (though you can fudge a bit by adjusting where the ribbon rests on the hook or nail).
I suggest making a guess as to where the first hook should go, and install it in the wall (think about how you want the whole scroll centered - take a rough measurement of the width of the whole scroll, and do a little math to find the offset for where that hook should be). Loop the ribbon over that first hook, and stretch out the scroll along your wall. You should be able to figure out roughly where the second hook should go, and make a mark in your wall.
Note: If you are using nails, have someone help you by holding their finger on the head of the first nail, to keep the scroll's ribbon from slipping off. You wouldn't want your nice scroll to go tumbling to the ground and getting wrinkled before you have a chance to enjoy it.
If all else fails, you can take your wall scroll to a professional picture framer, and have them cut the ends off the horizontal wall scroll, and frame it as a wide portrait. The silk of the scroll can be trimmed on the left and right down to about 2-4 inches (5cm - 10cm) to make a nice silk border (saving some money for mat board, and providing a very traditional Chinese/Japanese look).
Cheers,
-Gary.